Teach-ICT Resource Subscription Service
We offer a complete suite of teacher and student resources to support GCSE, A level and KS3 computer science courses.
In summary: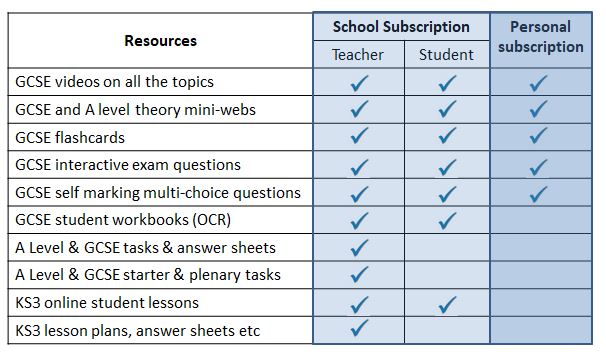 Full School subscription £145(+vat) for 12 months
Invoice with 30 day credit terms (UK Schools only)

Send by email, fax or post, details on the form.



order form

Telephone order

01766 780828

or you can pay with Paypal (they also take credit card)
Full details of what this includes HERE
Personal Revision subscription : £25 for 12 months
This is suitable if you are a student wanting to revise but your school does not have a subscription with us.
| | |
| --- | --- |
| Paypal (they take credit card) | |
It offers single-login access to GCSE and A level revision material but not the teacher resources.
NOTE: You cannot download teacher documents with this type of account i.e. worksheets, lesson plans and so on.
Full details of what this includes HERE
Overseas customer subscription £145 + vat if applicable
Overseas schools

A pro-forma invoice can be issued to enable a bank transfer or cheque to be raised.

We will wait until the bank transfer is confirmed before setting up the subscription.

If you are based in the EU VAT at 20% will be applied to the balance unless a valid VAT exemption number is supplied at the time of ordering. VAT will not be applied to orders from outside the EU